The Last Goodbye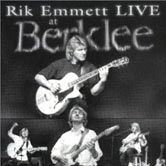 Recorded live in 2000 at the Berklee College of Music in Boston, this album features six unreleased tracks (seven if you count the novelty "Berklee Rocks") not found on any studio recordings.
Now available for the first time as a digital download!
LIVE at Berklee features 18 tracks available now for $0.99 each, or purchase the entire album for only $9.99 (save $8!)
Previously only available as a digital download, Rarities is now available on CD for a limited time! The album features live tracks from Rik's performance at the Toronto Harbourfront, as well as unreleased tracks.
Live Tracks:
Head Case
The Last Goodbye
Three Clouds Across The Moon
Previously Unreleased Tracks:
Between The Dreams of You and I
Question of Feel
Walk The Walk
Kiss It All Goodbye
My Heart is in His Hands
N'est qu'un Sourire
Part of Me
Available in CD format for a limited time at maplemusic.com. Order yours today!