The Rik Emmett Network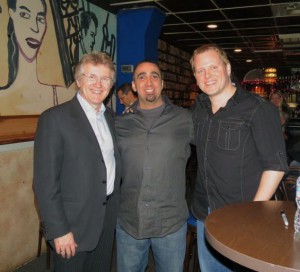 The Rik Emmett Network is an online community of Rik's fans. It is a closely knit group where Rik contributes to discussions on the message board almost daily.
The Network members are encouraged to interact with Rik and each other. What started as an email newsletter has grown into a great place for everyone to get the latest on Rik Emmett albums, shows, life stories, and get answers to your questions from the man himself. Some of our members even book Rik Emmett "Network Shows" in their home town!
Network members are the elite insiders in the international group of Rik Emmett fans. Joining the Rik Emmett Network entitles you to exclusives that you will not find anywhere else.
Network members get access to the Members Only Message Board, a forum where Rik regularly jumps in and takes part in conversations with his fans. There is no more immediate or authoritative source of information than email blogging & correspondence from the source.
This section also offers access links to such things as advance previews of video and audio clips and upcoming releases.
The cost of joining the Rik Emmett Network, with its exclusive access to Rik himself, is available for only $35/year. Only $35 for the whole year! That's a great deal.
Sign up for the Rik Emmett Network today!  
How to Sign Up for the Network with exclusive access to Rik
Subscribe using the "buy" button above and check out through the store
Watch for an email confirming your subscription.  This email will contain a unique link just for you to add your subscriber information.  Check your spam filter if necessary.
Follow the link and use the prompts to enter your information.  Only your username (minimum four characters) and a password is required.  The other fields are optional.
You're done!  Save your login credentials (you will receive an email for reference) and you can sign in right away!
Subscription expired?  No worries!  Just log in with your regular username and password and hit the "buy" button above.  When you check out, a new 1-year subscription will be added on to your account.  You're back in business right where you left off.  (And welcome back!)
Rikology
Rik has spent many hours exchanging thoughts, ideas, and opinions with fans on the exclusive Network Fan Forum.  Here's a random sampling of comments from the past.
You can't eat and pay the rent if your integrity gets no gigs. Your spirit needs to find a paying audience. That's not selling out – that's buying in. That's just business.