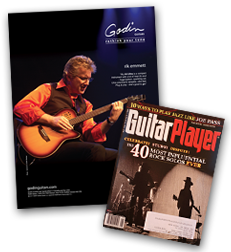 Rik extols the virtues of Godin's A6 Ultra in a full page advert in the June 11 issue of Guitar Player Magazine. A beautiful full-colour ad of a beautiful sounding guitar. Check 'em both out today!
Godin/Rik Emmett A6 Ultra ad
Godin Guitar's A6 Ultra
Guitar Player Magazine
Rik is taking a hiatus from touring. Any updates will be posted here as soon as they are available.