Rik will appear from his home studio via Zoom, raising funds for the road crews and support personnel who have lost their livelihoods during this pandemic.
Show Info
Rik will appear as part of an arts organization fundraiser for the Westdale Theatre in Hamilton, ON.
Rik will be interviewed by Mike McCurlie and perform Triumph and solo music.
Stay tuned for more info.
Show Info
My Jeans & Classics musical pal, Mitch Tyler, has co-written and recorded a new song, She Doesn't Think I'm Looking, along with Ed Young. I played lead guitar on the track. The lead vocal is from another mutual pal, Mike Shotton.
Mitch's other partner in the project, Andy Ackland, has finished the mix and it is now posted at ytanda.bandcamp.com, credited to Young, Tyler, Ackland & Associates.
This is the second time I used my 'Bickert' Telly for a recording. I played it clean, straight through my little Fender Blues Junior amp.
https://www.theglobeandmail.com/arts/music/article-listen-canadian-musicians-suggest-songs-that-calm-uplift-and-give/
My wife and I are in our 60s. We find the music that comforts us are the songs that come out of our youth. I would mention something like James Taylor's 1977 album JT, with Secret O' Life and others. He was at a point of life when he was very happy with Carly Simon, and he had just signed with Columbia Records. That record has always been a really comforting record for me, and James Taylor is just that kind of guy. Another artist I always return to is guitarist Pat Metheny. A song of his that never fails to make me feel great is Something to Remind You, from his 1995 album We Live Here. Pat is very lyrical in his playing, very emotional. Guitarist Larry Carlton is another guy whose playing always makes me feel comfortable. He played on all those Steely Dan records, like Aja and The Royal Scam. That's him on Kid Charlemagne. Those records are for hunkering down, cocooning.
Thanks to Craig Garber at Everyone Loves Guitar for the great conversation.
Listen Here
"Rik Emmett Interview – Triumph
"Courage and convictions – that's a muscle you have to develop…"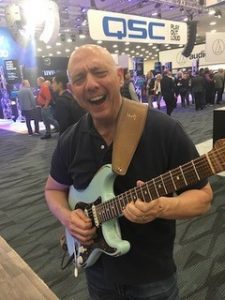 How Rik got started in the music business, Triumph's first gig, a scary record company transaction and why Rik ultimately left Triumph – and a moving story behind why the band members made up, years later… playing the US Festival (250,000 people), playing with George Benson, Steve Morse, Steve Vai… favorite songs he wrote, best decision he ever made, mellowing, and what happens when you get 8 free guitar lessons. Really cool and very sincere guy, first class all the way:
Rik was the guitarist, vocalist and primary songwriter for Triumph. While Rik was with the band, Triumph released 7 Platinum and 10 Gold LPs in Canada. In 1988, Rik left Triumph to focus on a solo career and has since released 20 studio & live LPs."
Rik is taking a hiatus from touring. Any updates will be posted here as soon as they are available.