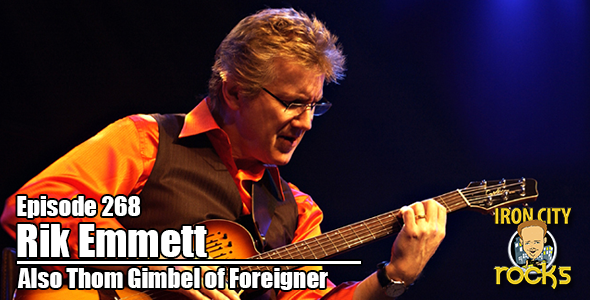 In Episode 268 of the Iron City Rocks Podcast we talk to members of two of the heavyweights of Classic Rock. First we speak with Thom Gimbel of Foreigner. Thom has been with Foreigner now for over twenty years and he takes time to fill us in on the band's upcoming US Tour with Kid Rock. Thom shares some great stories about the band and talks with us about his time with Aerosmith in the 90's.
We are also joined by Rik Emmett most notably of Triumph.  Rik is touring constantly these days with Dave Dunlap doing a mix of Triumph and post-Triumph music.  Rik talks about his progression as a musician, the state of the music industry today versus during Triumph's platinum years and what you can expect from his current live show.
Audio Available:  http://www.ironcityrocks.com/podcast/Episode_268.mp3

More Information: http://www.ironcityrocks.com/episode-268/
(Rik's segment begins around the 21-minute mark.)
Rik is taking a hiatus from touring. Any updates will be posted here as soon as they are available.