Texas
A NIGHT AT WOODSTOCK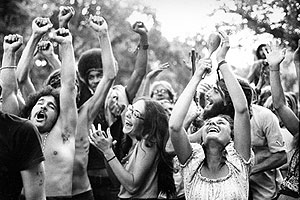 The legendary Woodstock Festival was one of the greatest moments in popular music history. Join us for an evening devoted to this amazing event, featuring the music of Crosby, Stills & Nash, The Who, Janis Joplin, Joe Cocker, Santana, Jimi Hendrix, The Band, Jefferson Airplane and more!
Featured Artists
Fort Worth Symphony Orchestra
Andrés Franco, Conductor
Neil Donell, Vocals
Rik Emmett, Vocals
Rique Franks, Vocals
Katalin Kiss, Vocals
Jean Meilleur, Vocals
Show Info
Downtown San Antonio (200 S Alamo St, corner of Alamo & Nueva)
Show Info
Originally Posted: http://www.triumphmusic.com/forums/thread/20454.aspx
Download PDF version
Poor David's Pub
Dallas, Texas
Nov. 20, 2009
Reviewed by: PJK
Andy Schmidt from Stir played for about 45 minutes and I was duly impressed. I would describe his style of music as Grey's Anatomy or Ghost Whisperer type music. You know the type where some slow, pensive and melodic music ends the show. His music was somewhat simplistic and predictable but he was passionate and has a pretty darn good voice. Great job by Don to use him as an opener.
Then the Troubs hit the stage not more than 15 minutes after Andy and you could immediately tell a dynamic shift in momentum. They started with Middle Ground and continued on for 2 sets! They actually got finished around 11:15 I believe. Rik was very entertaining in his story telling and the crowd was VERY supportive! The Troubs played their typical set list which included new stuff off the Push Pull album and of course there was the obligatory Triumph material which included, Magic Power (which he dedicated to the troops fighting in Afghanistan) Ordinary Man, Lay It on the Line, Suitcase Blues and Hold On.
"All I have to say is what an AWESOME show (but does that really surprise you?)!"
~ PJK ~
I have to admit, I am thoroughly impressed with Dave Dunlop! He's a terrific guitarist and compliments Rik both musically and on stage, very nicely! He also seems like a down to earth type of individual. He signed his autograph to my wife as "the other guy". This guy can shred, and on a classical guitar no less! It's easy to understand why he was part of the Triumph reunion, he and Rik must be soul mates.
Don Wishon was our promoter for this event and he deserves 2 thumbs up along with a keg of beer, a few shots and any other party material you can think of along with hugs, a massage, affirmation and a good old fashioned pat on the back! He did a GREAT job in organizing this event! We arrived about 15 minutes late for Andy Schmidt but true to his word, our table was waiting, dead center, second row back, can't beat that! He worked his butt off and I cannot help but think that Rik, Dave and Spud would not want to work with Don in the future. Don is exactly what Rik (et al) wants in a promoter! My hats off to you Don!
Feel good moment for Triumph fans:
Rik dedicated Suitcase Blues to one individual but also to Gil and Mike. He mentioned a little bit about the bad blood that existed for years (although he didn't go into details) but he also mentioned that he is excited about the reconciliation along with the fact that that they have become friends again.
The story goes that when he presented Gil and Mike with Suitcase Blues for the JAG album that they didn't understand how this Jazz song could be on a rock album. Gil and Mike also understood 'how that song COULD NOT be on the album so the said 'go for it'. Because of that decision Rik credited Mike and Gil for the solo career that he has today because that allowed Rik to show off his diversity! (Put a smile to my face!)
All in all a great show by the Troubs!
Rik keeps 'the fire burning' for all Triumph fans so if you have the chance, go see him! He will not only impress, but he he will satisfy that proverbial Triumph itch… at least for a little while…
Original Post: http://www.triumphmusic.com/forums/thread/20454.aspx
Download PDF version
Strung-Out Troubadours featuring Rik Emmett and Dave Dunlop
Poor David's Pub
Dallas, Texas
Nov. 20, 2009
By A. Lee Graham
"Music holds the secret, to know it can make you whole"
~ Rik Emmett, Hold on ~
Those words are manna from heaven for Triumph fans. Summoned to Dallas for a rare Rik Emmett appearance, a small-but-dedicated crowd sang along as the Triumph legend brought smiles and laughter to the faces of everyone.
The occasion was the latest stop by the Strung-Out Troubadours, Emmett's partnership with fellow guitarist Dave Dunlop that mixes acoustic guitar acumen with between-song banter that could hold its own even without music.
Like a rocked-up Smothers Brothers, Emmett and Dunlop tore through fiery flamenco, caressed smooth jazz licks and revisited some vintage Triumph tunes.
"Hold On," "Ordinary Man" and "Lay It On The Line" whisked fans back to the enorno-domes of yesteryear as they sang along to every line. The only missing ingredient were Bic lighters — oh, and a certain herb.
"Fritos, Doritos," laughed Emmett, remembering band mates Gil Moore and Mike Levine leaving the stage and the guitarist shrouded in a "laser cone" and a cloud of marijuana smoke.
"I'd get the munchies," Emmett laughed, recalling his acoustic solo spot on Triumph tours.
The Dallas crowd enjoyed a reinvention of that sound with "Midsummer's Daydream," rearranged for Dunlop and Emmett to perform. Joking that anyone can play the intro — and has on numerous YouTube clips — Emmett separated the men from the boys by capturing the nuances, tones and sheer musicianship that make the composition such a delight.
Judging from several conversations throughout the room, many in attendance were unaware of Emmett's post-Triumph activity. And that's a shame, for Absolutely, Spiral Notebook and other solo discs offer quality music. So does his flamenco activity with Pavlo and Oscar Lopez. And lest we forget Airtime, the hard rockin' project that scored a hit with Triumph fans in 2007.
And the streak continues this year as Emmett and Dunlop bring seasoned showmanship and sidesplitting hilarity to nightclub stages. For all his consummate musicianship, Emmett could coast on the comedy alone.
Bemoaning middle-age body aches, poking fun at "silly hairdos" of the '80s and fearing optic damage from a guitar pedal board brought laughs from the audience.
Perhaps no moment confirmed their dedication more than "Ordinary Man." On the Allied Forces album, the lyric "That's the only answer" ends with "answer" echoing into the next verse. Not on this night. At Poor David's Pub, the audience provided its own echo!
Emmett smiled as his fans shouted the word "answer," confirming Triumph's place in their rock 'n' roll hearts.
Emmett and Dunlop rewarded that faith by hanging out after the show, signing autographs and posing for photos. When I mentioned that Reunion Arena had been demolished only days before the gig, Emmett instantly recalled the venue where Dallas enjoyed Triumph's Allied Forces, Never Surrender, Thunder Seven and Sport of Kings tours.
Poor David's Pub itself moved since Emmett's last gig at the venue, but one thing cannot be razed or relocated: the music pulsing within the hearts of Rik Emmett fans. They should (warning: Triumph pun ahead) follow their hearts and not miss the Strung-Out Troubadours.
And don't miss Andy Schmidt, the former Stir front man whose songwriting chops and powerhouse vocals opens the show.
Originally posted by the fine folks at:
http://www.classicrockrevisited.com
Download PDF version