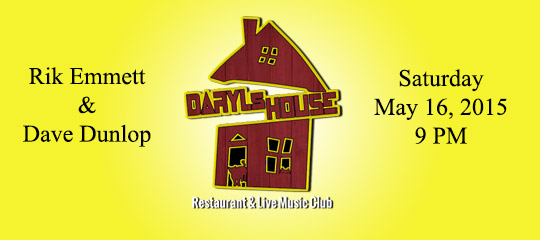 If you have a computer or a smartphone, you can watch Rik & Dave perform LIVE on Sat May 16th when they play Daryl's House (Daryl Hall's restaurant, bar, and live music club).
Their show will be streamed on the internet via Stage-it starting at 9 PM EDT. Mark your calendars!
(NOTE: Live web stream ONE TIME ONLY. This show will NOT be repeated, archived, or available for future viewing — it's a LIVE feed, one time only)
Here's how it works according to the Stageit folks: Go to the site here, click signup to set up an account and then click the GET TICKET button.You will then have an opportunity to purchase credits (which Stageit calls "Notes" ; 10 Notes = $1.00). Notes allow you to pay for tickets to see shows and to tip performers during the show. This show is "Pay What You Can," which means you can pay whatever you can afford (minimum 1 Note). Once you have Notes, they can be used for any show!
See you on the stage!
-Rik
Rik is taking a hiatus from touring. Any updates will be posted here as soon as they are available.