RikEmmett.com Exclusive
By Mike Mettler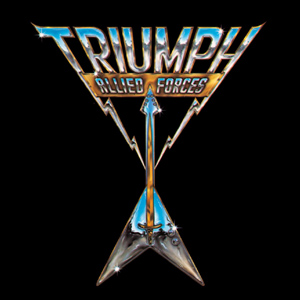 Triumph's breakthrough album, Allied Forces, was released 35 years ago today on September 19, 1981, on RCA Records. The Canadian trio's fifth studio album and first to be recorded at their own Metalworks Studios in Mississauga, Ontario, Allied Forces went platinum in the United States (with certified sales of over 1 million copies). It reached #23 on Billboard's Top Albums chart, and it boasted two major FM radio hits: "Magic Power," which reached #8, and "Fight the Good Fight," which reached #18 on the Mainstream Rock Chart.
"Allied Forces was the album where Triumph found itself as a band," believes guitarist/vocalist Rik Emmett, and who could argue with that assessment? In a RikEmmett.com site exclusive, all three members of Triumph — Emmett, bassist/keyboardist Mike Levine, and drummer/vocalist Gil Moore — each discuss the impact of Allied Forces and how they feel its reception ultimately helped forge the band's ongoing legacy. Keep on fighting the good fight, everybody.
Rik Emmett (6-string guitar, 12-string guitar, bottleneck guitar, lap-steel guitar, lead and background vocals): Allied Forces is probably my favorite Triumph album for a lot of reasons. Looking back with perspective, I feel AF was the album where Triumph found itself as a band. You never really have any awareness of it at the time — at the time, you're just powering ahead, dealing with the outrageous incoming, and trying to handle the momentum. It's only later, looking back, when you can see it for what it was — or, at least, what it became.
The title track "Allied Forces" was arguably our best moment as a heavy rock band. "Fight the Good Fight" and "Magic Power" were FM AOR anthems, from conception through execution — and, eventually, they proved to be the right thing in the right place at the right time for the market of FM radio and arena concert touring. "Fight" was probably the best collaboration of song elements and arrangement that Gil Moore and I ever came up with — even though he wasn't crazy about the Biblical title, "Fight the Good Fight," but Mike Levine and I outvoted him.
Mike Levine (bass, organ, synthesizer, piano): We were maturing as writers, musicians, and recording artists. We got to do it in our own studio — which was a huge boon, because we could just go there and not worry about the clock, so to speak, and budgets. So we were able to go, "Nope, that's no good," and throw it out, as opposed to settling for something.
I don't know how to describe it, but we just had so much fun making that record. There was no grief and no aggravation, or anything like that whatsoever. It flowed, and we were able to take songs that maybe would have been marginal and spent more time on them to make them really, really good. It was an overall great experience.
Gil Moore (drums, percussion, lead and background vocals): It was the first record we recorded at Metalworks, and the first album where I liked the sound of the drums. Some of our earlier records, the way they were engineered, I was not a fan of. It was just the decisions that were made, and they didn't sound right to me at the time, but I just went along with them, thinking, "Well, the engineer knows best." But it was always against the grain for me.
But with Allied Forces, we were with a new engineering team in our own studio, and the drums got a chance to breathe. That's one of the things I remember the most — I really thought we got the best sound coming from the rhythm section of a three-piece band. That was important. It's there in the recording, and it doesn't sound like what came in the recordings before.
Emmett: It was the first album we made at the Metalworks studio, and the last album we did with the late Mike Jones as engineer. Mike was an ex-Brit, and he knew how to get those nice, fat, warm Marshall-amp distortion guitars married up to sparkling-clean Teles or acoustics. I always enjoyed working with Jonesy — and also Ed Stone. Loved working with them both. Ed became one of our house guys at MW — and mostly my main man. I spent a lot of my life with him through the next 7 years. We shared a lot of laughs.
Levine: I love vinyl. We put Allied Forces back out on vinyl in 2011 [via TML Entertainment, for the album's 30th anniversary], and we wanted it put out on the best-quality vinyl you can get. It was great to hear that warmth again in a non-digital way, because it came from original master tapes. I used to fight with RCA all the time for the vinyl quality. I went to the pressing plants, and saw they could do virgin vinyl. I got the costs from the plant manager and said, "OK, I understand we can't make commercial copies out of virgin vinyl, but at least let's do a couple-thousand promo copies. You send those to radio, and it's going to sound better than anybody else's records. For an extra 3 cents each to press them? Come on, let's do it! I'll pay for it myself!"
Emmett: Though it never converted into a Triumph concert song (I do play it a lot now, in my own solo shows), I think "Ordinary Man" was an important song for me in my own development as a writer, where I maybe started to find the balance between my humility, my ego, and the "vocation" that had grown out of my avocation. And all three songs — "Magic," "Fight," "Ordinary" — are evidence of my attempts to live up to the name of the band. We now had a more solid chunk of material that gave the band its identity: that of positivity, welded into the music. Obviously, "Hold On" had started that, back on [1979's] Just a Game. But with AF, I think we were hitting our stride.
I think the Just a Game album was an album where I was figuring out what I could do as a recording artist in the studio: but with Allied, I think it moved to a different level. We had arrived as writers and recording artists, at a place where the material evolved into arrangements that suited our little ensemble. Maybe we'd lacked a bit of that self-awareness on previous efforts.
Moore: Musically, we hit a few spots that were seminal moments for the band. And touring-wise, we hit another level. All around, it was a good point in time for Triumph.
Levine: And the sequencing was important too. The opening track is important ["Fool for Your Love"], and the second track is almost as important ["Magic Power"]. So is closing Side 1 ["Hot Time (in the City Tonight)"] so someone is going to flip it over — that's very important! The beginning of Side 2 ["Fight the Good Fight"] — very important! The ending of Side 2 ["Say Goodbye"] — probably the most important, because you want to leave with a good taste.
Emmett: I also look back and think that maybe we got a few other things right — the mixes of that album are really good, and that's largely Mike Levine, in an era before automation and digital everythingness! The logo on the front cover, combining the lightning bolts of the logo with the quasi-military Flying V (my first big guitar endorsement deal with Dean, for a Flying V!) in blue-silver on black, with the sword from the Allied Expeditionary Forces crest in it — it was the whole subtext of being a Canadian band tied to U.S. market-driven forces, but with a view of taking our music to the whole wide world. There's an integrity to all of that which stands up.
And the idea really surfaced through this album: We were fully aware that we were never going to be a band that would enjoy a "critical" embrace. We were a band of the common man. The "Allied Forces" were us, merging with those kids in the concert venues. It was us and them, against the world.
Levine: "Air Raid" — yeah, that's very thematic, I think. There are a couple of double entendres in the Allied Forces title… (chuckles)
Emmett: Of course, MTV came along, and changed the dynamics of everything, didn't it? Videos were designed to speak to the kids, after school. I mean, MTV liked Triumph and they played us, and I know RCA (and Mike Levine) understood the importance of the channel from the get-go. But there was also a dynamic that I see now, looking back: AF was an album that had a very powerful heart and soul. And maybe the whole MTV video thing trivialized it some.
I mean, we did that kinda bogus "birthday-cake-in-space" soundstage blue-screen set of three songs, and "Say Goodbye" was one of the three. But if we'd just done straight-up rockin' concert videos of "Allied," "Fight," and "Magic," I think we would have had video evidence that was closer to the DNA of the album.
Moore: Our legacy — that's really for the fans to figure out. At the end of the day, we went around and around touring for nearly 15 years, so when you see a list of those concerts, you go, "My God!" The number of people that walk up to me, even today, and talk about what point in their lives it was when they saw Triumph, and talk about the impact. We get some unbelievable emails from Triumph fans. That impression is something I guess never goes away from the people who were there. It's like being a sports fan, being at a certain game at a certain stadium.
We had a lot of successful records. When you start a band, you don't expect that. Most of my early bands, we couldn't even get a job — never mind getting a gold record. At the end of the day, they put us in the Hall of Fame [i.e., the Canadian Music Industry Hall of Fame, in 2007], and that's a nice thing.
Emmett: It's so hard to know what the heart of an album is going to be, when you're inside it. It takes a few decades for the whole thing to shake out.
Levine: We have a body of work that spans over 15 years. To me, it was always about the fans. We have the best fans in the world, hands down. They stuck with us through thick and thin, and we delivered for them. So I'd like to think our legacy is: We made a lot of people happy with our music, and we're still part of the theme of people's lives. They got their first kiss, or whatever, to a Triumph song. It affected them. If they got married, it was a tune at their wedding. To be a part of that, and do what we did — we're lucky, lucky guys.
Moore: We seem to get a lot of loyalty from the people who liked us, and are willing to defend us. I'm pretty grateful for that aspect of things. For me, every day in my life, Triumph is a positive. Every single day of my life, the momentum that Triumph created set me up for everything that's happened in my life since. I'm very lucky. The seeds were planted years and years ago with Triumph, and some of the outgrowth of the Metalworks school and the studio come from it.
I have a lot of gratitude to Mike and Rik for being in the band with me, and to the fans for supporting us. It's not something I take for granted. We've come full circle, and I hope we get to do more of it.
---
AUTHOR BIO
Mike Mettler (@MikeMettler), a.k.a. The SoundBard, is the weekly Audiophile columnist for Digital Trends, the music editor of Sound & Vision, and is currently writing the authorized biography of the band Styx. He also attended the Howie Meeker Hockey School in Guelph, Ontario as a lad. In his spare time, he dreams of owning a turquoise 1967 fastback Mustang, just like the one his parents owned while he was growing up.