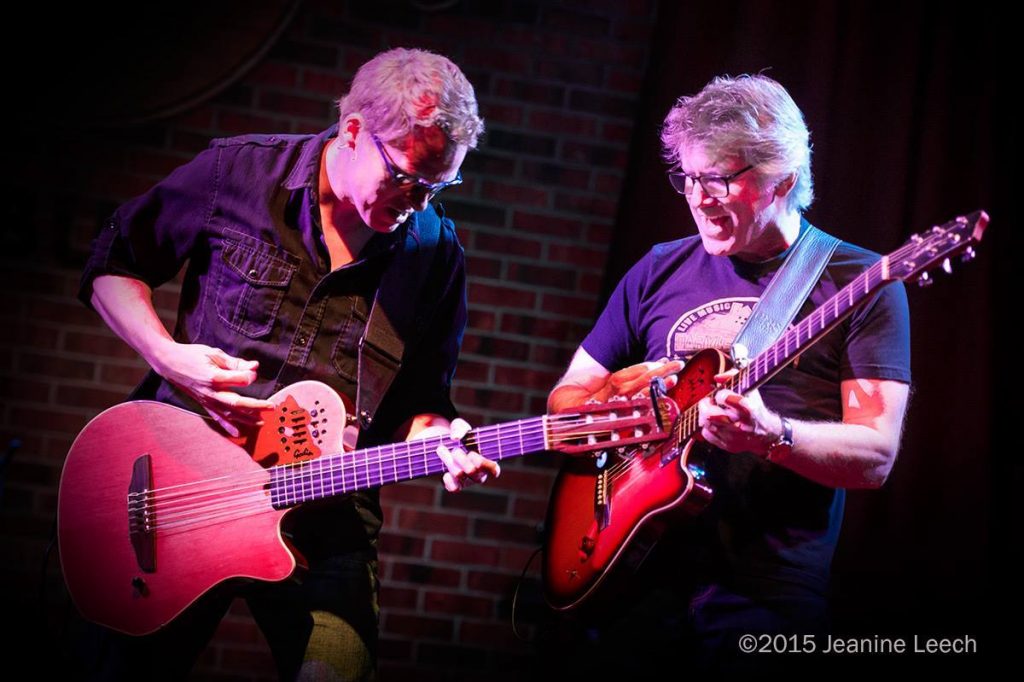 Rik Emmett just sold out City Winery Nashville, several weeks prior to the August 26th date.  This will be his first time ever playing Nashville, and the Canadian singer-songwriter-guitarist's show went clean on August 7th.  Last year, Emmett sold outCity Winery Chicago two months prior to the date of the show.  Other sell-outs within the last 2 years include Rams Head On Stage in Annapolis, Tralf Music Hall in Buffalo, The Magic Bag in Detroit, Sellersville Theater and the Tin Angel in the Philadelphia area, Daryl's House in Pawling, NY, and Tupelo Music Hall in Londonderry, NH (now with a brand new 500-capacity location, where Rik will be appearing for two nights this coming December).  A YouTube video of the old Triumph classic "Magic Power" (https://youtu.be/NcVqAHw23aE) shot at Daryl's House in May of 2015 has over 210,000 views: social media has played a key role in Emmett's surging success in concert club settings.
​
One of the most versatile guitarists around, Emmett has been inducted into a few Canadian Halls of Fame for his gold & platinum work with the power rock band Triumph.  Counted amongst the world's finest guitarists, he has performed alongside legendary performers such as George Benson, Randy Bachman, and Steve Vai.  He continues to surprise critics and fans with his vast musical expression, which runs the gamut from rock to jazz to classical to folk — all of which are on display in acoustic duo shows with guitarist Dave Dunlop.  It's as if the seasoned rock star has found a truer calling in a stripped-down setting.
"Rik Emmett's performances at The Magic Bag are always intensely personal & profoundly intimate," notes venue General Manager Robert Littleton. "He pulls out all the stops, everything from the Triumph classics to the latest recordings with Dave Dunlop.  He still gives everything he's got, and Rik lets Dunlop stretch out & play along with him.  The two really complement each other; I couldn't think of a better dynamic, or a better accompanist than Dave.  Triumph fans are passionate, and music fans always have their opinions about how a show was done.  Not once have I ever heard anything bad about the acoustic show.  When you listen to some of the songs stripped down, something resonates, almost as if you're hearing the song for the first time.  Take "Lay It On The Line" — a fan favorite, a crowd pleaser — it's done so true, you'll want to play air guitar for a chord or two.  On a personal note, Rik & Dave are really easy going & super easy to work with.  They're Canadian gentlemen and the kind of folk you welcome back like family."
"Rik is a performer's performer," adds Donal McCoy, longtime owner of the Tin Angel in Philadelphia where Emmett has performed more than a dozen shows over the years. "He doesn't just do a show, but rather takes the audience on a journey, perfectly intertwining stories with fan favorites, both old and new."  Bruce Ranes of Sellersville Theater concurs, "Rik Emmett and Dave Dunlop sound exceptional… strong vocals and stellar fret-work as they perform a cross section of Triumph classics and solo material.  In addition to selling very well, they're a pleasure to work with."
Rik Emmett and Dave Dunlop will be performing at City Winery Atlanta on Friday, August 25th.  A few tickets are still available, but don't wait too long… it will surely sell out.
UPCOMING SHOWS:
Fri 8/25/17: City Winery Atlanta – Atlanta, GA
Sat 8/26/17: City Winery Nashville – Nashville, TN
Thu 8/31/17: Uxbridge Music Hall – Uxbridge, ON
Thu 9/7/17: City Winery New York – New York, NY
Fri 9/8/17: The Upper Room – Albany, NY
Fri 9/15/17: Infinity Hall – Norfolk, CT
Sat 9/16/17: Narrows Center for the Arts – Fall River, MA
Thu 9/28/17: City Winery Chicago – Chicago, IL
Fri 9/29/17: Shank Hall – Milwaukee, WI
Wed 10/4/17: Yoshi's – Oakland, CA
Thu 10/5/17: The Canyon – Agoura Hills, CA
Sat 10/7/17: The Rose – Pasadena, CA
Sun 10/8/17: The Coach House – San Juan Capistrano, CA
Fri 10/20/17: New Hope Winery – New Hope, PA
Sat 10/21/17: Rams Head Onstage – Annapolis, MD
Sun 10/22/17: The Tin Pan – Richmond, VA
Sat 11/11/17: Seneca Queen – Niagara Falls, ON
Fri 11/17/17: Music Box Supper Club – Cleveland, OH
Sat 11/18/17: The Lamp Theatre – Irwin, PA
Fri 12/1/17: The Center for the Arts Natick – Natick, MA
Sat 12/2/17: The Spire Center for the Performing Arts – Plymouth, MA
Fri 12/8/17: Tupelo Music Hall – Derry, NH
Sat 12/9/17: Tupelo Music Hall – Derry, NH
Thu 1/4/18: The Brichmere – Alexandria, VA
Fri 1/5/18: Harvester Performance Center – Rocky Mount, VA
Fri 1/26/18: Live at the Ludlow Garage – Cincinnati, OH
Sat 1/27/18: Live at the Ludlow Garage – Cincinnati, OH
Sat 5/19/18: Daryl's House – Pawling, NY
Sun 5/20/18: Daryl's House – Pawling, NY
​For more information on Rik Emmett, visit www.rikemmett.com