Individual tracks $0.99 each. Also available at iTunes. Album no longer in print.
Track Listing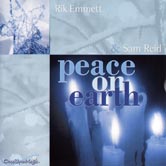 $9.99
(full album download)

I Saw Three Ships
It Came Upon The Midnight Clear
Joy To The World
Oh Holy Night
We Three Kings/The Huron Carol/God Rest Ye Merry Gentlemen (Medley)
Gentlemen Invention
Oh Come All Ye Faithful
Silent Night
What Child Is This
O Little Town of Bethlehem
The Holly and the Ivy/We Wish You a Merry Christmas (Medley)
About
A COLLECTION OF TRADITIONAL CAROLS
by Rik Emmett and Sam Reid
Released in 2002, Peace On Earth is the re-mixed instrumental version of "The Spirit of Christmas" originally released in 1999.
These recordings capture the spirit of the Christmas season: the reverence of peace on earth, and the comforting grace of faith, hope and love.
Creatively arranged by internationally-renowned keyboardist Sam Reid and guitarist/vocalist Rik Emmett, these interpretations are a delightful and engaging blend of Old World traditions with an imaginative New Age spirit.
From Celtic stylings to Eastern modes and African rhythms: from reels of joyful celebration to pastoral aural landscapes of starlit winter nights: this music offers the full emotional range of the spirit of Christmas.