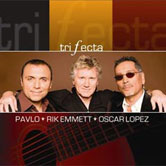 Track Listing
Melting Pot
Redbird 250
Moonlight on La Costa Nera
Viola
Trifecta
Thousand Islands
Dreamers
Jumpin' Django
Niko's Tiny Carousel
(The dance of the) Three Jacks
Fiesta
About
A Debut CD of Mediterranean Magic, Triumphant Fusion & Hot Latin Fire
Pavlo, Rik Emmett & Oscar Lopez have developed an incredible musical chemistry, united by friendship and mutual respect.
An amazing guitar trio has been born.
It originated with Pavlo's long-standing inspiration from the guitar trio of John McLaughlin, Al DiMeola and Paco DeLucia. He contacted Oscar Lopez via MySpace, and they bonded through their shared passion for the guitar. Brainstorming for the perfect candidate to round out the triumvirate, their agent Darcy Gregoire at The Agency suggested that another of his clients, Rik Emmett, might fit the bill. Finally, in the summer of 2008, over a meal with some excellent wine and an intense jam session in northeast Toronto, a brotherhood was formed.
This collaboration has resulted in their debut release, "TRIFECTA", a group of songs that offer a fresh approach to World Music – an intense cultural melting pot of their unique styles.
The three experienced guitarists, all from widely different backgrounds, have forged brilliant solo careers independently, garnering many awards and winning the hearts of their respective fans as well as international accolades and critical praise for their individual talents and bodies of work.
With TRIFECTA, they now have a common identity – one heart and soul, dedicated to the romantic spirit of the guitar.
Mediterranean Magic, Triumphant Fusion & Hot Latin Fire…. This trio conjures up a thrilling alchemy of musical styles and culture that is a rare, magnificent, once-in-a-lifetime concert experience for any music lover.
Their musical journey goes from tender, playful, intimate melodies to dizzying, spiraling solos that will take your breath away. From Latin rhumba to swinging jump: from bossa nova to rock & roll: from a child's lullaby to a Mardi Gras Fiesta, the P.R.O. trio takes their guitars and goes supernova, lighting up everything they touch with their passion.
Opa, Cheers and Salud – Greetings From P.R.O.
Produced by Pavlo, Rik Emmett & Oscar Lopez
Co-Produced and Engineered by Michael Shotton
Mixed and Mastered by Rick Andersen at the Underground, Burlington, Ontario, Canada