THE STORY OF THE CREATION OF MARCO'S SECRET SONGBOOK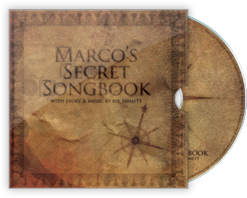 The seeds of the story for Marco's Secret Songbook were planted in my notebook as I sat backstage in full costume, for my 'book-ends' role as Captain Robert Walton, during a performance of Robert George Asselstine's "Frankenstein", at Hamilton Place in Hamilton, Ontario, Canada on the first weekend in November, 2003. I had a lot of time to kill backstage between those opening & closing scenes – a natural setting to have one's imagination dramatically running wild.
I originally envisioned a concept 'framework' idea, of two brothers leaving their musical family act to travel the world, going through many different styles of music & guitar-playing, each trying to one-up each other by sending musical postcards to each other, chronicling their exploits. I subsequently excitedly (and, doubtless, prematurely) pitched this to guitarist Steve Howe of Yes, a role model & hero of mine from my teenage years, who I'd kept in touch with after meeting that past summer, quite by chance, in a hotel courtyard restaurant in Seattle, Washington. Steve took an immediate and somewhat horrified pass, expressing the opinion that maybe I "had gone off the deep end" – which struck me as perhaps a tad ironic, coming from the co-composer of (amongst many other glorious 'prog' things) the double album, "Tales From Topographic Oceans" (speaking of 'deep ends').
That rejection provided a dogged resolve. I modified the concept down to a single fellow, named him Marco, (as in, "Polo"), and began organizing his travels & musical adventures. Marco was an artificial construct, functioning as an alter ego, requiring more fiction than fact to create an interesting narrative arc. I revised the storyline through eighteen drafts. It took another three drafts to turn it into a relatively concise narrator's script. I admit – I was a total rookie at this.
I wrote & compiled the songs & guitar pieces in my spare time over 4 years, whilst writing & recording & releasing other projects, teaching school (and marking and grading college assignments), and living a life. I began trying to mentally construct a jigsaw puzzle to try and fit the music into the storyline. I even reached back further in my song sketch notebook, and came up with a few back-dated items. One originated from as far back as 1992, when Molly Johnson had added my song demo sketch for 'Between The Dreams of You and I" to the ending of the commercial cassette (but it didn't fit on to the CD!) released to commemorate her first Kumbaya Festival in Toronto.
I originally envisioned this 'album' as a simple, folk-y acoustic guitar & voice album, with Michael Shotton kindly volunteering to partner the recording of the songs & instrumentals, as engineer and co-producer, starting back in 2007, after we had completed our joint Airtime "Liberty Manifesto' project.
Now – partnering with Michael Shotton, in his studio, on his turf, means you will be assimilated into his dimensions: and in Michael's universe, the scope of the 'Marco' album kept growing and growing from its humble origins – eventually to epic orchestral proportions. This process took many years of part-time sessions, often bumped to the back-burner, then readdressed, bit by bit, as we both would become preoccupied with other priorities and projects in our lives. Periodic reassessments of the musical storyline suggested more up-tempo songs were needed to energize the set list: I would go back to the drawing board and come up with something.
It was an almost surreal relief, to get it finished in March of 2012, with the able engineering of Scott Lake in the wonderful mastering facility at Metalworks Studios, and with grateful thanks to my old partner and brother-in-arms from Triumph, Gil Moore. But the end of such a long journey of creation also brought mixed feelings of doubt and trepidation. Something that had been such a laborious, secret, part-time preoccupation was now finally becoming public. It might be judged as the greatest vanity project and folly of my life. It might come out into the world and be greeted with disinterested shrugs. In the exponentially over-competitive digital universe of music that exists in 2012, it might simply get ignored and overlooked.
However – after the lessons learned from so many years of creating the story and songs of Marco, the semi-autobiographical modern-day troubadour 'construct' who took me on this musical odyssey, I have to say – regardless of the outcome of the marketplace – it's a happy ending, for both of us. No matter what comes next, Marco and I found ourselves, and restored our faith in love, through the music.
The true secret of any songbook is really no secret at all. It reveals itself, every time the music plays, and it waits there, for those who care to listen, and for those who are willing to share in the give and take.
Humbly, I offer up Marco's Secret Songbook, as an act of good faith.
MARCO'S SECRET SONGBOOK
A modern-day troubadour goes on a musical odyssey, hoping to find himself and restore his faith in love.
Come Home
Chapter 1 How The Songbook Began
Father's Pocket Watch
Chapter 2 To France, and Genevieve
Four Square
Chapter 3 Romance Blossoms
Begin The Dance
Chapter 4 Gentle Summer
A Walk In The Park
Chapter 5 Betrayal
Already Gone
Chapter 6 Black & Blue
No Rest For The Wicked
Chapter 7 Tongue in Cheek
The Land of Boogie Woogie
Chapter 8 New Connections
Suspension Bridge
Chapter 10 Chasing Memories
Old Sweet Song
Chapter 11 Surrendering Pride
Little Ditty
Chapter 12 Faith, Hope and Love
Hope
Chapter 13 Returning to France
Chapter 14 The Circle is Complete
Between The Dreams of You and I
Chapter 15 Epilogue
Come Home [Reprise]
CHAPTER 1 How The Songbook Began
As the 21st century began, a frustrated young man named Marco decided to leave his family home on the Amalfi coast of Italy. Barely 18, he found the expectations within the household too narrow and rigid. Music was the family's traditional livelihood, yet he yearned to break free and find his own way.
His mother told him he burned too hot with raw ambition. Too young, too reckless, he must respect the values of the family, its legacy, its Songbook, and its way of doing things. Discussion escalated into debate, then degenerated into bitterness, and Marco's father recognized that the young man would have to step out of his parents' shadow.
He negotiated a private understanding with Marco which gave birth to a new, Secret Songbook. He would allow the young man to pursue his own path, and would even offer his blessing, but only if Marco would agree to work hard on original compositions and never give up. His father told Marco to go and chase his dreams, yet quietly hoped that a new transcendent chapter for the family Songbook could spring from Marco's travels. For Marco's part, he was willing to make any promise that would get him out the door. Once there, he would never look back.
Every person needs hope, love and good fortune to find their way in this world. Standing on the threshold of his son's leap of faith, a father offered his son a simple gift, and a measure of common sense to try and understand it…
Father's Pocket Watch
Heading out the door to face the future on my own
Fully resigned to leave behind my childhood family home
My father smiled, took me aside, looked deep into my eyes
Put his arm around my shoulder, said, "Son, just a few words to the wise.
Now I trust you realize
That a boy becomes a man when he finally comes to terms
With the measure of his own sweet time as the planet twists and turns
So then, here's a slice of the same advice your grandpa offered me
And it represents some common sense, so please listen carefully:
Better keep a cool head screwed on straight – think hard before you choose
Maintain a gracious dignity – whether you win or lose
And when other tempers rise in heat, mind you swallow your hasty tongue
Put friendship first and foremost when all is said and done.
Oh, oh, whenever you feel the need to run a race against the clock
Don't ever forget we took the time to have this little talk, oh,
Remember the simple gifts a man is given to understand …"
And with that, he pressed his old gold watch deep into the palm of my open hand.
Now – whenever the world spins way too fast and the rush hour never stops
I remember, even though time flies, opportunity still knocks
And the kiss of lady luck waits in between the ticks and tocks
While hope still springs eternal in the rhythm of my father's pocket watch.
Well – that moment has stayed with me & every word still rings so true
And as wisdom fashions custom, I have shaped this song to pass along to you:
May Love inspire every choice you make to play your part
And may hope still spring eternal within each beat of your heart
May our good faith in tomorrow help us all to understand
That the gifts of life held sacred can all fit inside the palm of an open hand.
CHAPTER 2 To France, and Genevieve
Marco set off to take on the world. At first, his fear could be almost paralyzing, as he traveled by train and bus, staying in youth hostels and small hotels, making his way into France. Strange noises assaulted him by day, while the silent void of isolation blanketed his dark nights. His guitar remained a faithful companion, and with it, he began learning how to listen for clues inside himself.
One day, busking on the sidewalk of a small French town with his guitar case thrown open in front of him, hoping for some spare change, he began playing a little piece based on one of his mother's melodies, sung to him as a child. A young passerby became captivated. More coy than shy, she asked Marco if he might give her some guitar lessons.
In the fraction of a moment such as this, fate can take a completely unexpected turn. Genevieve was clearly not as interested in a music education as she was in Marco. The feeling was mutual. Still, the pretense of lessons gave them the opportunity to visit in the comfortable surroundings of her family home, the chateau of a local winery. While her parents remained skeptical of their daughter consorting with a lowly street musician, the young man's manners and artistry were impressive enough that they felt they could indulge their daughter's infatuation.
Word quickly spread of Marco's talents, and he was commissioned to compose a piece for a local festival, which he entitled, Four Square.
FOUR SQUARE – Gavotte Pour Le Festival Baroque
CHAPTER 3 Romance Blossoms
As Marco's reputation grew, his relationship with Genevieve began to blossom. This was a shared innocence – the first blush of romance – taking walks together, talking, and holding hands.
He told her about all of his dreams, and the secret agreement he had made with his father, to create his own songbook.
Whole lives, entire worlds, can gather in an instant, when two hearts consent to Begin The Dance.
BEGIN THE DANCE
Strike up the band – see what kind of sparks can fly
Reach out your hand – can't catch a star unless you try
One raindrop falls: one flower grows
One world keeps spinning all along
[chorus]
One simple life, one hundred thousand stories
Waiting for love to take a chance
Two hearts collide, and a million hopes & dreams are born when
One tiny step begins the dance – begin the dance
Face down your fears – take off that mask you hide behind
And when the shadows clear – who knows what answers you can find?
One secret shared: one river flows
One world keeps spinning all along
[repeat chorus]
[bridge]
Under stars that shine above us, in the full moon's silver light
Let's make a wish and get to work on it tonight
[repeat chorus]
CHAPTER 4 Gentle Summer
Marco became aware of the journey within a journey, the lovely twisting and turning of the tale. Love made his next inspiration arise so easily, he entitled it, "A Walk In The Park".
A Walk In The Park
CHAPTER 5 Betrayal
Even as the dance began, and Marco's spirit began to soar, Genevieve's parents hastily began making their own plans. Fearing the extent of their daughter's romantic involvement, they enrolled Genevieve in a Swiss finishing school, immediately booked her train ticket, and ordered her to pack.
Heartbroken, Genevieve struggled through tears, choking back anger and resentment that she felt towards her parents for the agenda forced upon her. She had so little time to try and organize her thoughts – her father was downstairs, waiting impatiently to drive her to the station. She wrote a hurried letter to Marco, entrusting her father to deliver the sealed envelope. Convinced that things were already out of hand, he buried the envelope deep in a desk drawer in his study.
Marco arrived at the chateau the next day to discover that Genevieve was gone. Her parents made it clear that he was cut off from any further contact. He felt betrayed. Angry.
Wounded ego led to false bravado. If she could leave him so easily, he could also move along. He … was already gone …
ALREADY GONE
Leaves are falling it's the change of the seasons
We knew it had to come all along
Don't look for me to blow a kiss goodbye, cuz I'm already gone, yeah.
You made your choices, and you got your reasons
Somehow you read me all wrong
I won't be hangin' around for the heartbreak
I'm already gone, yes I'm already gone – long gone.
I still remember you promised your love
Would always be faithful and strong
You never waited to stand by your words,
Cuz you were … already gone, gone, gone …
Oh-oh-oh, nothin' to worry 'bout – nothin' to see here
Let's just keep movin' along
We mighta had somethin' once upon a time
But that's already gone, yes it's, already gone, long gone.
Hey yeah – already gone. No need to worry 'bout it, baby.
So long so long – I won't be hangin' for the heartache.
Bye bye, bye bye, woohoo.
CHAPTER 6 Black & Blue
Marco's rainbow of creative emotion now turned black & blue. Marco swore that he would do whatever it took to forget Genevieve.
He pawned the pocket watch and bought a ticket out of France, eventually landing in the orchestra pit of a London West End show.
First, he had escaped from his parents, never wanting to see or speak to them again – at least, not until he had achieved success on his own terms. Now he was running from Genevieve as well, so that he could resist any temptation to reach out to her, ever again.
For some musicians, a steady theatre gig in a foreign country would be an adventurous blessing: for Marco, it felt like a prison sentence. It was adding nothing to his songbook. At a steady stream of after-show parties, the booze and one-night stands became an anesthetic. He tried a fling with a cute cokehead named Ginny, who he met through a DJ friend, Tony. After a while, the masquerade left him numb inside. Why did he even hang with these people?
Maybe it was partly because they filled a need, with their admiration for his talents when he played for them. But his lifestyle was beginning to make him sloppy: after too many warnings from the conductor at the theatre, Marco got fired.
Alone behind the door of his little Soho flat, whatever gifts he possessed felt more like a burden, going to waste. He was even failing to keep his promise to his father about the secret songbook.
They say that when you hit bottom, the trick is to find a remaining shred of dignity, and summon the courage to find something that rings true.
The Blues forgives all sins. It offers reconciliation between body and soul. It reawakened Marco's Songbook, as he heard a voice – maybe it was an angel, maybe a ghost. But it whispered:
Share your pain, boy. There's a lot of work to do, so you best get busy. There's no rest for the wicked.
No Rest For The Wicked
No rest for the wicked – No high holy day set aside for me
No rest for the wicked – No mercy no pity no sympathy
No rest for the wicked – No shelter from the sorrow rainin' down on me
No doubt about my ticket
On a one way ride, down a river that runs to the sea.
Yeah, I am resolved to this, yeah I am down with that
I'm so far gone there ain't no turnin' back
They say an idle hand is the devil's tool
But this itchin' in my fingers takes exception to the rule, yeah, yeah.
Yeah – I got a wanderin' eye – I got a restless soul, Lord, I
Never chew a bite if I can swallow it whole
Got such a busy body – addicted to sin, got all this
Hot blood percolatin' underneath my skin
No rest for the wicked
No pardon for the sentence hangin' over me
No pillow for my thick head
No salvaging my dignity
No redemption under warranty
No mercy no pity no sympathy
No rest for a wicked piece o' work like me.
CHAPTER 7 Tongue in Cheek
A songbook can tender reparations when a heart is broken, and be a haven of retreat for a troubled soul.
Marco now had a new perspective on the scene that had claimed him, a scene he realized he must abandon, and soon.
He had resurrected a powerful ally – his sense of humour, and started 'swinging' away with an ironic tongue planted firmly in cheek, bouncing a musical postcard back from his self-destructive vacation – in The Land of Boogie Woogie.
The Land of Boogie Woogie
Ginny is the life of the party She's always flyin' high as a kite
She knows someday there'll be hell to pay
But she's the Queen of Boogie Woogie tonight.
Tony drives a real hard bargain – always got the high beams on full bright
He never stops to worry cuz the boy is in a hurry he's the
King of Boogie Woogie tonight.
[chorus]
So climb aboard the bandwagon tonight
The wheels'll roll until the mornin' light – yeah
And you can satisfy your appetite and get
so far gone that you're out of sight
Ev'ry little thing is gonna be alright when you
Lose yourself in the Land of Boogie Woogie tonight.
Shuffle on down to the southside, when you gotta whole lotta nothin' to lose
Measure your luck when the girls show up & start
Dancin' in their high heel shoes.
[repeat chorus] [solo]
Tell all o' your brothers & sisters, from ev'ry corner of the world – unite!
Cuz in our hopes & dreams we'll all be kings & queens
In the land of Boogie Woogie tonight.
[repeat chorus; add …] This ain't no time to be actin' goody-goody, when you
Lose yourself in the land of Boogie Woogie tonight, yeah.
CHAPTER 8 New Connections
One night at a party, a Miami-based cruise director heard Marco strumming away on a new original instrumental, and offered him a gig on the spot.
Marco accepted, knowing he had to take some sober steps towards a new truth, one that made connections and suggested possibilities, where everyone could share in the dreams of The Songbook.
[A Suspension Bridge]
CHAPTER 9 Cruising & Dreaming
In a cruise ship show band, the party floats along on a never-ending voyage. But an insistent tug on Marco's heart never left him. What good is a songbook without an audience? He sensed that he was drawing closer to something true, and remembered something his father had said;
Chase your dreams.
One night, somewhere out on the moonlit Caribbean, Marco dreamt that music had enough magic to fill every heart.
Fill Your Heart
When the rain is falling – and the darkness closes in
When the devil calls and his routine is wearing thin
When the world gets wicked — you're still free to change your mind
Then who knows what you can find? When you
[chorus]
Fill your heart with magic, let it shine on through the night
Chase a dream & catch it, hold on 'til the mornin' light
Oh, feels so right. Fill your heart.
When the storm is over and a brand new day begins
Take a little joy ride on the rhythm deep within
When fear becomes the question – love is the answer every time
So why don't you make up your mind? To
[repeat double chorus – new tag line]
Trip the light fantastic – chase a dream and hold on tight …
[repeat B verse and double chorus]
CHAPTER 10 Chasing Memories
A surreal, permanent vacation life swirled around Marco every day. Struggling to make some sense of it, he became aware that he kept running, longing for a place where he could belong: chasing after the memory of an old, sweet song …
Old Sweet Song
The noise gets wicked in the open marketplace
Such an unholy racket that gets all up in your face
Who can help me find the sound that echoes in my soul?
Heal this broken heart and make it whole
Take all the scattered pieces of the puzzle and
Make the right design appear
Find some words that can capture my imagination
Play an old sweet song I long to hear.
Everywhere I turn in this world of give and take [and take and take]
My head starts spinning with the choices that we make
Inside this little bubble that's bursting at the seams, tell me
Who can speak the language of my dreams?
[repeat chorus]
Well, you try to make some sense of all these things you can't explain
You try to find a place where you belong
But I'm bound to keep on movin', headed down the road
And I'm goin' – yes, I'm goin' for a song …
[solo]
Find some words that can capture my imagination
Play an old sweet song, I long to hear.
CHAPTER 11 Surrendering Pride
The more Marco tried to forget Genevieve, the more he was haunted by memories of her sweet smile, the soft, gentle tenderness in her eyes, which penetrated his soul. After burying himself for so long in his songbook, living in denial of his family and the girl who had captured his heart, he finally began to surrender the stubbornness of his wounded pride. On a pin point of humility, the tide began to turn, and Marco's journey rounded for home, accompanied by the "charming heat" of a modest Little Ditty.
Little Ditty
This is just a little ditty A tune that's kinda pretty
I've always had a thing for singin' those
It'll never top the chart But it just might win her heart
Sprinkle stardust in her eyes and put some twinkle in her toes
Yeah, it's just a little ditty in a style that's kinda witty
That sentimental diehards still admire
Cuz I keep it short & sweet, and I build some charming heat
As we climb towards the bridge to join the choir.
And – who still believes romance can warm a cold hard world?
But if she gave me half a chance I'd gladly risk it all
And freely take the fall for a good old-fashioned girl
So I wrote this little ditty with a phrase or two that's tricky
Flowin' by with such apparent ease
Ah, but every verse I wrote was founded on the hope that it might
Make her notice itty bitty me.
[repeat bridge and last verse] coda –
…but deep in every note, is a tiny ray o' hope
that she will see through my transparent strategy
Cuz the lowdown nitty gritty is that this here little ditty
Is the only way I know to make the lady notice itty bitty me.
CHAPTER 12 Faith, Hope and Love
Keeping his music secret from the people he loved made no sense to Marco anymore. His mother had often told her children that love was always the best answer to any question of the heart.  She believed that hope made the pendulum of love swing back and forth between give and take.
The creation of the songbook was an act of good faith. He could see that now, as a renewed sense of hope was drawing Marco back into a circle of love, where dreams are shared.
Hope
[chorus]
Hope is a spark in the darkness – hope is a note in a song
Hope is the right word at just the right time – keeps the storyline moving along
And hope is a true force of nature – it's the dream we pursue wide awake
Hope heals a heart that's been broken apart, a little
Hope always hangs in the balance of life's give and take.
Oh, life has its share of surprises, it can deal out an awful bad hand
You get played like a fool, 'cause it's random and cruel
Full of rules we just can't understand
But hope is like rain on a flower – oh, hope is the spirit that moves
Well, hope never fails to put wind in your sails, fills your head with the free will to choose
[repeat chorus]
[bridge]
It's that fire in your eyes when some sunset horizon inspires you to rise up again
It's an unspoken pleasure, a comfortable measure, like the smile of an old trusted friend
'Cause hope is a spark in the darkness – yeah, hope is a note in a song …
Oh, hope fills a heart up with promise – gives you reason when reason is gone
Oh, hope is the right word at just the right time, keeps a storyline moving along
And Hope is a true force of nature – it's a dream we pursue wide awake
Hope heals a heart that's been torn all apart
It's the voice that gives praise to your talents
And the courage to rise to the challenge
Yes it's hope that can offer you balance in life's give and take …
CHAPTER 13 Returning to France
Marco left the ship at the next port of call, heading straight for France and Genevieve.  As he opened the chateau gate he could see Genevieve's mother, pale and frozen, gazing down from a second floor window.
His heart pounded in his chest as he knocked on the heavy door. It opened – and Genevieve stood before him – far more beautiful than he had remembered, hesitating only for a shocked second before wrapping her arms round his shoulders.
"I never stopped trying to find you," she whispered in his ear.
"Why did you leave without saying goodbye?" Marco asked softly.
She stared at him, uncomprehending.
"But … my letter … I left it … I … I gave it to my father to give to you." Her eyes dropped as a realization washed over her. "He died last year," she said gently.
Genevieve's mother appeared behind her in the doorway, the envelope in her hands.
"I found it in his private papers. It's addressed to you." She offered it to Marco.
Slipping it from the envelope, he read aloud:
"Dearest Marco:
They sent me away, but it changes nothing. I will always love you. When your songbook is ready, I know you will share it with me. I will wait, forever. Your, Genevieve
Tears of joy misted Marco's vision. He had been such a fool, misjudging his true love. He kissed Genevieve and five years of hurt began to melt away. Still embracing, the two agreed to depart immediately for Marco's family home.
The circle would soon be complete.
CHAPTER 14 The Circle is Complete
As darkness falls, so softly, and the moon rises, we come to the final chapter.
It took Marco five years to find the true secret in his songbook, which is really no secret at all. He reveals it every time he plays, for those who care to listen, and for those who are willing to share in the give and take. Love is always the best answer. And it's always there – flowing, between the dreams of you and I.
Between The Dreams Of You and I
This age holds nothing sacred – this noisy masquerade
We're targets for the bullets on the hit parade
We practice imperfections & learn the art of compromise
Then gaze upon reflections of love's disguise
Who can say what goes unspoken?
Who will count the tears we cry?
These measures lie between the dreams of you and I … oh …
The circle set in motion, comes bearing down our way
The promise of tomorrow – still born today
Dancing waves out on the ocean
Shooting stars up in the sky
These measures lie between the dreams of you and I.
Oh, hear the echoes of the ages
Feel the rhythm of the tides
The truth keeps coming down into that place where love resides
Oh, the place where love resides
We search for something holy – then draw the bottom line
Tracing out a portrait in love's design
Every wave out on the ocean & every star up in the sky
All measures lie between the dreams of you and I.
CHAPTER 15 Epilogue
Just before we retire to our sleepy beds
One last voicing of a melody
That will sweeten the air we draw
To nourish our gentle dreams.
One last chorus, to complete the circle.
One more generous share
Of the instinctive song that draws us all back to our home.
Pray that, somehow,
The deep dark blue world benefits from the harmony of this music-making,
And the magic of this very moment.
Lullaby, my lovelies, and a good night to us all.
Come Home (Reprise)
Liner notes and credits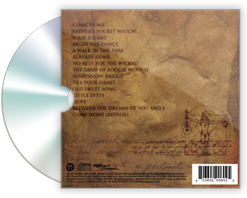 All songs and story written by Rik Emmett, Rockit Sounds Publishing [SOCAN]
All chapter underscore composed, arranged and performed by Richard Evans [SOCAN]
All songs produced and mixed by Michael Shotton
Production & mix assistance, with benevolent executive production supervision: Rik Emmett
Lead vocals, guitars, electric bass, some arranging and occasional lame-butt "Miroslav" keyboarding: Rik Emmett
Drums, percussion; most of the "Miroslav" orchestra keyboard playing & arranging (including a ton of conceptualizing and rearranging of thematic material in the Come Home Reprise); Land of Boogie Woogie horn arrangement; background vocals; digital remixing and microscopic surgical Pro Tools fixing & editing; king of sandwich-making and everything else, including the kitchen sink: Michael Shotton
Father's Pocket Watch: arrangement and piano by Todd Booth
All chapter narration & underscore cues, mixed by Rick Andersen
Recorded and mixed at The Underground, Burlington, Ontario, Canada, on and off, from 2007 to 2012
Mastered by Scott Lake at Metalworks, March 2012
CD sleeve design, drawings & layout: Dianna Bruccilieri www.dianabruc.com
CREDITS (a cast of thousands, to whom I owe an infinite debt of gratitude)
Voiceover narrator: Tony Daniels
Accordion and live string parts (and delivery above & beyond the call): Claudio Vena
Upright string bass: Dave Johns
Flugelhorn: Paul Mitchell
Saxophone: Don Featherstone
Rik would like to offer special thanks to Fred DiSanto and Godin guitars, as well as luthiers Hiroshi Sakurai (L Series Yamaha steel strings) and William Laskin: and to Gil Moore at Metalworks for his generous support.
I want to express my gratitude to my dear old friend Terence Young, who, as a reader of early drafts of the story, gave me excellent advice and some great plotting ideas.
Also, I can never say thanks enough to Michael Shotton, who partnered the journey through the production of this project, treating it as if it were his own.
I'd also like to thank Rick Wharton and Kathy Wagner for being at the heart of Rockit Sounds things for so long. Also, Matt Rock, Darcy Gregoire, and my fans – all of the people who have provided a network of support on my own lifetime musical odyssey, through countless acts of good faith, generous hope and infinite love.
This work is dedicated to the memory of my mother Thelma, and my brother Russell Baxter.
And, as always, with humility and awe, deep in the great abiding mystery of romance – I dedicate my work to the single greatest inspiration & love of my life, my wife Jeannette.