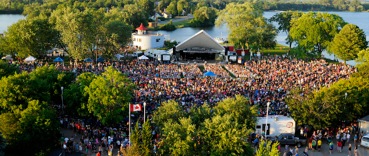 The Peterborough Musicfest is a non-profit charitable organization that presents concerts every Wednesday and Saturday at 8:00pm on the shores of beautiful Little Lake in Del Crary Park, downtown Peterborough. All concerts are presented free of charge to ensure that all members of the community can enjoy an evening of entertainment in spite of economic or social barriers.
A secondary benefit of the Musicfest is the large economic impact that the event brings to the community through tourism. A 2010 Economic Impact Study revealed that the Musicfest supplies a $4.8 million impact to the region through hotels, restaurants and shopping.
Because the Musicfest is free-admission, it is funded completely through corporate sponsorship, fundraising initiatives, and private donations as well as through municipal support at all levels.
VIP tickets ("Fest Friends") packages are available.
The Peterborough Musicfest is proud of the past 26 years and looks forward to its 27th season beginning on June 29, 2013. To learn more, visit our website at www.ptbomusicfest.ca
For further information, please contact:
Peterborough Musicfest
277 George St. N., Peterborough, Ontario
Tel: 705- 755-1111
Email:  info@littlelakemusicfest.ca
Show Info