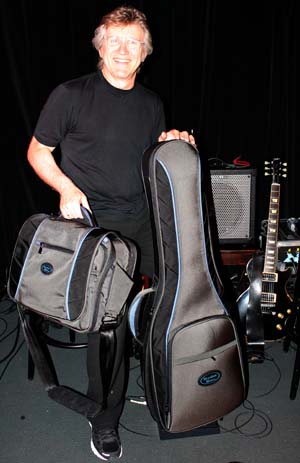 Rik Emmett announced today his endorsement of Reunion Blues gig bags and equipment cases.
"Hey – I couldn't be any more delighted.  I just wanted to say, first of all, thank you.  These are such high quality, well-designed, rugged cases, they are – literally – the best lightweight guitar (and the attaché bag as well) cases I've ever owned.   It doesn't do them justice, to call them gig bags.   For a travelling musician, Reunion Blues is state-of-the-art.
Lightweight, perfectly balanced, the handle & straps are ergonomic and comfortable:  compartments are logical & functional …  The top considerations would always be protection and the promise of durability, and Reunion Blues is, quite simply, as good as it gets.
But there's more:  there's style, and the aesthetics of Reunion Blues speak to me.  [ And this pretty much sums up the marketing phrase:  RUGGED, REFINED.  Yes.  Exactly. ]
From the velvet interior to the quality of the corded edges … I feel like I am putting my instrument into a case that quietly says to others, "This dude's a serious pro."   I also think I can hear it speaking to baggage handlers, security personnel, flight crews, and stage crew personnel:  'Respect the property.  There's no point acting like a luggage gorilla:  this case will only make a monkey out of you, anyway.' 
In my fifth decade as a travelling musician, I feel like I've earned the privilege to surround myself with quality & class.  Reunion Blues provides & protects."
Learn more about Reunion Blues at their website.