Magazine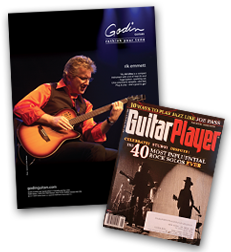 Rik extols the virtues of Godin's A6 Ultra in a full page advert in the June 11 issue of Guitar Player Magazine. A beautiful full-colour ad of a beautiful sounding guitar. Check 'em both out today!
Godin/Rik Emmett A6 Ultra ad
Godin Guitar's A6 Ultra
Guitar Player Magazine
Rik has been prominently featured in a wonderful article in Premier Guitar (January 2010) titled
"Those Daring Young Men and Their Doubleneck Guitars: A Brief History of Multi-Neck Players".
Also available in print, you can read the online version of the article here.
P.S. Rik's featured on page 2!