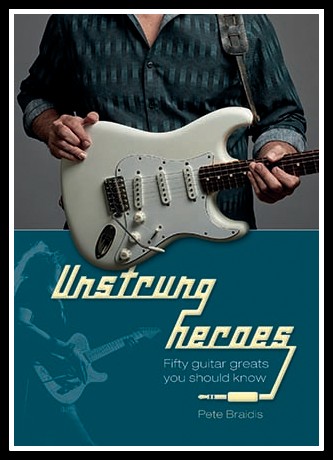 There may be plenty of books on guitar players, but there are very few, if any, that delve into the guitar players who have been somewhat "under the radar" through the years. This book gives exposure and long-overdue attention to 50 players who have certainly received some accolades in their careers, yet still remain outside of the mainstream and the typical lists of "guitar greats."
Interviews give insight into guitar players from various genres―including Rik Emmett, Pat Travers, Uli Jon Roth, Steve Hackett, Bruce Cockburn, and Richie Furay. The musicians get personal, speaking about their careers in their own words. Also included are short biographies on each player and photographs.
One reviewer writes: "A unique glimpse into the world and lives of many guitar greats that do not always receive the accolades they deserve. Unstrung Heroes brings these players into the spotlight highlighting many of their achievements, some of which you may not have otherwise known. The author's music knowledge, along with his witty sense of humor, is truly unsurpassable and is reflected throughout the book. Unstrung Heroes – a great read for both the music elites as well as the novice!!"
Another reviewer says, "Our Author delivers much deserved praise and recognition for the many great guitarists/musicians presented here. Some you will know…others not so well. But read on to see just how many of these artists have really been a part of your music library. It is surprising, and very cool! You will NO DOUBT be treated to insightful conversations, humor, and increase your knowledge of music history as each artist reveals him/herself in a way that Pete Braidis is able to elicit. The Author transports us though time, spanning decades, referencing many great memories of incredible bands and the artists who truly are the backbone and catalysts for the music we will always love. Thank you for creating this gem Mr. Braidis!"
To order your copy, visit: https://www.amazon.com/Unstrung-Heroes-Guitar-Greats-Should/dp/0764350889/ref=sr_1_1?s=books&ie=UTF8&qid=1469477024&sr=1-1&keywords=unstrung+heroes+book
And for a chance to win a personally autographed copy, signed by both Rik Emmett and author Pete Braidis, just comment on Rik's Facebook with your favorite Rik Emmett song (can be a Triumph song, or one from Rik's solo career), then "like" and share this post on your own timeline. One winner will be selected at random on Wednesday, July 27th at 11:00 PM Eastern. Good luck!