My Jeans & Classics musical pal, Mitch Tyler, has co-written and recorded a new song, She Doesn't Think I'm Looking, along with Ed Young. I played lead guitar on the track. The lead vocal is from another mutual pal, Mike Shotton.
Mitch's other partner in the project, Andy Ackland, has finished the mix and it is now posted at ytanda.bandcamp.com, credited to Young, Tyler, Ackland & Associates.
This is the second time I used my 'Bickert' Telly for a recording. I played it clean, straight through my little Fender Blues Junior amp.
Thanks to Craig Garber at Everyone Loves Guitar for the great conversation.
Listen Here
"Rik Emmett Interview – Triumph
"Courage and convictions – that's a muscle you have to develop…"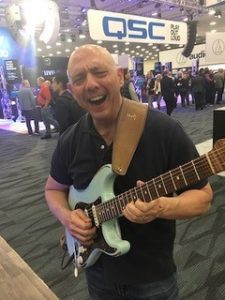 How Rik got started in the music business, Triumph's first gig, a scary record company transaction and why Rik ultimately left Triumph – and a moving story behind why the band members made up, years later… playing the US Festival (250,000 people), playing with George Benson, Steve Morse, Steve Vai… favorite songs he wrote, best decision he ever made, mellowing, and what happens when you get 8 free guitar lessons. Really cool and very sincere guy, first class all the way:
Rik was the guitarist, vocalist and primary songwriter for Triumph. While Rik was with the band, Triumph released 7 Platinum and 10 Gold LPs in Canada. In 1988, Rik left Triumph to focus on a solo career and has since released 20 studio & live LPs."
JUST ANNOUNCED!
Banger Films, in association with Revolver Films and Bell Media's streaming service Crave, is currently in production on "TRIUMPH: LAY IT ON THE LINE", the first-ever feature documentary about the dramatic career of the legendary Canadian power trio. And now, the producers are inviting a limited number of fans to be part of the action.
In the "triumphant" spirit of the film, Banger is giving a group of lucky fans a once-in-a-lifetime opportunity to attend a special event that will be filmed for the documentary. The intimate and interactive celebration is scheduled for Saturday November 16, 2019 in the Greater Toronto Area, and it's a chance for the attendees to explore the story of the group, interact with rare artifacts and iconic props from the Triumph legacy, and of course, hang out with the band themselves. More than that, it's a chance for Triumph to say thank you to the fans who have stuck with them for over thirty years.
For details, visit: http://www.triumphmusic.com/superfan-fantasy/
Multi-platinum and Gold Record award-winning hard rock band, Triumph, comprised of Rik Emmett (guitar, vocals), Mike Levine (bass, keyboards) and Gil Moore (drums, vocals), with hit songs including "Lay It On The Line," "Magic Power" and "Fight The Good Fight", are among the inductees for Canada's Walk Of Fame 2019.

Canada's Walk Of Fame announced the names of its 2019 Inductees today. The Inductees represent the organization's pillars of recognition: Sports and Athletics; Arts and Entertainment; Business and Entrepreneurship; and Science, Technology and Innovation. Inductions will be held at the Canada's Walk of Fame Awards Show at the Metro Toronto Convention Centre in Toronto on November 23, 2019, followed by a star-studded gala celebration. The show will be broadcast in December on CTV.

Read the entire article on BraveWords online: http://bravewords.com/news/triumph-among-inductees-for-canada-s-walk-of-fame-2019-inductee-reel-streaming
From Rik:
"There's a benefit on June 9 at the Port House in Port Credit Ontario, for a soundman who's a guy I grew up with, Bernie Sandor.  I'm going to get up and sing "My Old School" with the tribute band "Pretzel Logic" (which RES 9 drummer Paul DeLong also plays in:  and my pal Mike Shotton is lead singer).   This will be a great night of music — many bands, including Oakland Stroke (a fantastic Tower of Power cover band) and Hotel California, an Eagles cover band. "
Show Info
Rik is taking a hiatus from touring. Any updates will be posted here as soon as they are available.