Texas
Rik Emmett returns to Dallas!
Rik returns to Poor David's Pub in Dallas for the fourth consecutive year and will perform an intimate acoustic concert along with Dave Dunlop (the Troubs) in support of their new album/cd "reCOVERy room 9".
Hear their versions of such classics as "The Boys of Summer", "Superstition", and "Message In A Bottle" along with Triumph classics – "Magic Power", "Hold On", "Lay It On The Line" and "Midsummer's Daydream" and more.
It will prove to be a very special Saturday evening with one of the most proficient and versatile guitarists of all time.
Show Info
A NIGHT AT WOODSTOCK
The legendary Woodstock Festival was one of the most important events in pop-music history. Join us for a night devoted to this amazing lineup of '60s rock, featuring the music of The Who, Janis Joplin, Joe Cocker, Santana, Jimi Hendrix, The Band, Jefferson Airplane and more, backed by full orchestra!
Fort Worth Symphony Orchestra
The FWSO is one of the most successful orchestras in the United States, performing an impressive 200 concerts each year for an audience of 250,000 adults and children from all walks of life. Over the last nine seasons, Music Director Miguel Harth-Bedoya has transformed the FWSO into an ensemble that is recognized and admired the world over for its artistic excellence and commitment to community engagement.
Andrés Franco, Conductor
Mr. Franco is the Associate Conductor of the Fort Worth Symphony Orchestra, Principal Conductor of the Caminos del Inka Ensemble and Music Director of the Philharmonia of Kansas City. He is also increasingly active in the U.S. and South America, and has appeared with several orchestras including the Oregon Bach Festival Orchestra, Corpus Christi Symphony, Medellin Philharmonic, and EAFIT Symphony.
Show Info
www.pegasusnews.com
by Ron Dempesmeier
The timing was fortuitous for a great little acoustic concert by rock guitar icon Rik Emmett in the intimate confines of Poor David's Pub. Emmett came to the Dallas-Fort Worth area to participate in a Concert in the Garden with the Fort Worth Symphony Orchestra on June 26. Before heading back to Toronto, he was able to work in an afternoon gig with borrowed guitars (his FWSO instruments were electric, too loud for the venue and packed away). The promoter, DW Promotions (aka Don Wishon), managed to find some excellent instruments among some local musicians and has proven to be quite adept at guerilla-style concerts of high quality like this.
"Emmett is a guitarist's guitarist, and his ability in his acoustic set shined brightly."
Emmett will always be primarily known as the lead guitarist and co-lead vocalist of the legendary Canadian power trio Triumph. But as his many years in that band and in his now longer solo career, Emmett has shown his love of blues, classical, jazz, flamenco and swing. He is a guitarist's guitarist, and his ability with the songs in his acoustic sets shone through.
"Middle Ground" was a soaring medium tempo song that showed Emmett's fine tenor was still capable of hitting those high notes. "Petite Etude" was the first acoustic showcase of his classical style and one that he jokingly said had been too long since he last played as he started again and played the intricate number beautifully. "Lay it on the Line" was played on the 12-string acoustic to give it a heartier feel since it was one of Triumph's hard rock anthems.
Emmett introduced the next two swing-based songs as his tribute to Lonnie Johnson (a 1920/'30s jazz guitarist) who had an instrumental called "Woke Up This Morning with Blues in My Fingers." Emmett thought was a great title and one for which he thought he could create lyrics. Another classically influenced showpiece was "Midsummer's Daydream" from the Thunder Seven album by Triumph.
Emmett had a lot of stories and jokes to tell between songs. He shared that he wrote "Way Back Home" for his two daughters as they headed off to college, one was written about a street musician he had seen busking for "Spare Change," and that he was inspired by the thought of the thousands of prayers that went to the ceiling of Toronto's St. Michael's Cathedral for the song "Secret Wishes."
Emmett played a lovely rendition of Paul McCartney's classic "Blackbird." He referred to how many other classics the Beatle had written and that McCartney was still going strong at 69. Emmett jokingly said, "It just isn't fair!"
Emmett ended the show with a pair of Triumph classics. "Magic Power" was another uplifting song concerning the amazing properties of music and how it makes one feel young, wild and free. Finally, he played "Suitcase Blues," which was his first foray into a jazzier vein that his somewhat flabbergasted band mates let him put on the Just a Game album in 1979. He thanked the guys for letting him discover a side that let him keep playing long after the spandex, pyrotechnics and blinding light shows of youth faded away. It was a great ending to an intimate afternoon show.
Original Post: www.pegasusnews.com
Download PDF version
RIK RETURNS TO TEXAS
Solo Acoustic Performance – Up close and personal
Doors at 1:00 pm
Show starts at 2:00 pm
General admission tickets are $35 advance, $40 at the door.
Age limit 18 years or older unless accompanied by parent or guardian.
For advance tickets, contact Don Wishon at dwishon@jcpenney.com.
Show Info
A NIGHT AT WOODSTOCK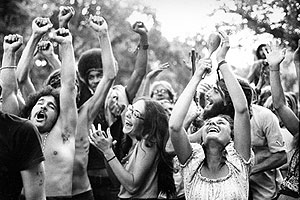 The legendary Woodstock Festival was one of the greatest moments in popular music history. Join us for an evening devoted to this amazing event, featuring the music of Crosby, Stills & Nash, The Who, Janis Joplin, Joe Cocker, Santana, Jimi Hendrix, The Band, Jefferson Airplane and more!
Featured Artists
Fort Worth Symphony Orchestra
Andrés Franco, Conductor
Neil Donell, Vocals
Rik Emmett, Vocals
Rique Franks, Vocals
Katalin Kiss, Vocals
Jean Meilleur, Vocals