Rik is pleased to announce that all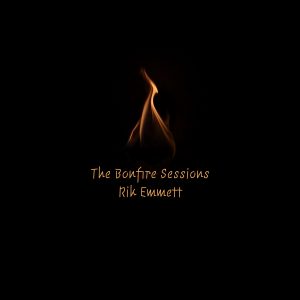 tracks in The Bonfire Sessions series are available in two high-res formats in addition to MP3s. 
FLAC (Free Lossless Audio Coding) is a lossless digital audio coding format, which can compress an audio file by up to 60% of its original file size. When decompressed it becomes an identical copy of the original audio data. 
FLAC –  24bit/44kHz and 24bit/96kHz are hi-res formats that most consumers can handle with current technology.  iPhones and most other smartphones can handle 24/96 and 24/44 files.  To organize and play these files via iTunes, they should be converted to ALAC (Apple Lossless Audio Codec).  Conversion is possible via freeware:  Try this one
MP3 – 320Kbps (16bit/44.1kHz) – Hi Quality MP3. 
If you choose one of the FLAC formats for your download, please be aware that the files are larger and will take longer.  Be sure to use a private internet connection, and avoid public connections like coffee shops or airports for best results.
Part 4 – Complete


The final 6-pack of 'Folk Songs for the Farewell Bonfire' has arrived.
These 6 tracks are all fingerstyle electric guitar instrumentals. 5 of the pieces were recorded on the neck pickup of a white late-model Telecaster guitar (nicknamed Annabella) with a maple fingerboard and a stacked-single MJS pickup, through a Yamaha THR10X 'lunch-pail' amp, mic'ed with an old Shure SM56.
The last composition, Cobalt Blue, was played on a custom-made, relic'ed MJT Telly (nicknamed 'The Bickert') with an MJS '59 humbucker in the neck position, through a Fender Blues Jr. amp, mic'ed with the Shure 56.
Here's the stories behind the pieces.
Annabella
Sample


This was the first piece I wrote when I got the white Telecaster dubbed Annabella, and then got Mike Smyth at MJS to stick his famous telly replacement pickups in it. It was written to showcase a Django-esque use of the neck for voicing 4-note chords, and to capture the mood of an era of guitar styling that is long out of fashion – but never beyond good taste. (The title 'Annabella' for the piece, and for the name of the guitar, grew from the AABA structure.)
EZ Duz It
Sample


In the notebook, this was entitled 'Son of High Five' for a long time, since it grew out of the same mood, the same key, and the same creative impulse for melodic accessibility. It's a true 'back-porch' kind of tune. Guitarists will note that this piece tries to tackle the 'trick' that Chet Atkins used to describe about guitar technique – make the hard stuff sound easy. (The 'Hold On" lick shows up in this tune, too!)
Step Ladder
Sample

This piece also dates back to the first MJS pickups video session, but it had lingered around in unfinished form for a few years. The idea behind the piece was to use the harmonic chord constructions of II-V's to step up and down the fingerboard (thus the title, Step Ladder).
Kosmic Tricycle
Sample

Joseph Kosma composed the music for the jazz standard ' Autumn Leaves' in 1945, employing a chord progression that he borrowed from classical music, and that has been subsequently borrowed over and over again throughout the years. In this case, the chord progression modulates through three keys (thus, the tricycle of the title). I wish my old mentor, the late Peter Harris, was still around to hear these kinds of inventions: I hope he'd be proud.
High Five
Sample

This instrumental dates back to the filming of the first MJS pickups endorsement video. It was written to carry along in Rik's tradition of feel-good, melodic kinds of crowd-pleasers. The title falls into the tradition of many Emmett compositions that refer to the hands — Gladhands, Fingertalkin', All Thumbs, Handiwork, etc. (Keen ears will hear an ascending pentatonic guitar lick line that dates from the lead solo of 'Hold On'.)
Cobalt Blue
Sample

This was the last piece written for the Bonfire Sessions, to round out the 6 pack of instrumentals. I composed it and recorded it on my latest guitar indulgence – a custom relic version of the famous Ed Bickert Telly. I had written a line of lyric / poetry at the top of the page:
"Climb a mountain path / Awash in shades of cobalt blue"
… and the melody grew out of the chord voicings, and the piece took shape. Even though the philosophy of the Bonfire Sessions was to avoid overdubs, I decided at the last second to cheat a bit, and add a section of rhythm guitar, so that I could dub a lead solo over the changes. So, in a way, it's a little tribute to Bill Evans and his 'Conversations With Myself' record. But I was trying to live in Ed Bickert territory on this, and I hope I did that style of guitar playing justice.