Rik is pleased to announce that all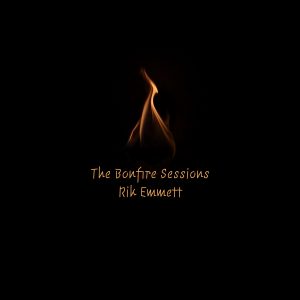 tracks in The Bonfire Sessions series are available in two high-res formats in addition to MP3s. 
FLAC (Free Lossless Audio Coding) is a lossless digital audio coding format, which can compress an audio file by up to 60% of its original file size. When decompressed it becomes an identical copy of the original audio data. 
FLAC –  24bit/44kHz and 24bit/96kHz are hi-res formats that most consumers can handle with current technology.  iPhones and most other smartphones can handle 24/96 and 24/44 files.  To organize and play these files via iTunes, they should be converted to ALAC (Apple Lossless Audio Codec).  Conversion is possible via freeware:  Try this one
MP3 – 320Kbps (16bit/44.1kHz) – Hi Quality MP3. 
If you choose one of the FLAC formats for your download, please be aware that the files are larger and will take longer.  Be sure to use a private internet connection, and avoid public connections like coffee shops or airports for best results.
Across the Great Divide
Lyrics
Sample

The guitar track surges along on a lot of insistent upstrokes. The lyric is self-evident: and I believe, as of this writing, that the divide is growing beyond Death Valley proportions. The more partisan things get, the bleaker our prospects. An angry old folksinger protests.
Bells of St. Raphael's
Lyrics
Sample

This is based on real life: the bells of St. Raphael's church in my neighbourhood get carried on the prevailing westerlies. I am not a man of religious faith, but the music of the bells speaks to the yearning & longing of my spirit. A tune like this arises from the influence of Paul Simon.
Everything Is Gonna Be Alright
Lyrics
Sample

An antidote to the darker side of Great Divides … Optimism. That it comes naturally to the human spirit in this day & age surely suggests some kind of Darwinian imperative. I cannot find good reasons for hope (as the verses plainly suggest) but – the chorus comes along, and – pop – there it is.
Flavour of the Month Club
Lyrics
Sample

This jazzier track sat better on an electric Telecaster than it did on an acoustic guitar (although we tried it: first nylon strings, then steel, then parlour acoustic, etc. The Telly through a Yamaha lunch pail amp was the answer.) Some say all songwriting is autobiography (which is, in a sense, true). But this song is autobiography in both content and execution. I fully realize that swing shifting to jazz marginalizes the demographics, but … well, I Gotta Be Me – that's the main point of the exercise.
Right Here Right Now
Lyrics
Sample

This song cries out for a larger band track arrangement, and would not have been out of place on the 2016 RES 9 album. So this strikes me as more of a 'demo' than lots of the other songs from The Bonfire Sessions. I enjoy singing in this style: the Zen kind of message in this has become ever more important to me in the back half of my 60's. And another thing worthy of mention, from my days teaching songwriting at the college, is the play of pronouns, changing the flow of verses & choruses. Old Dog – Old Trick. Comfortable fit.
Around These Parts
Lyrics
Sample

A songwriting collection like this (and a tune like this one in particular) owes much debt to Dylan, Petty, Springsteen, Tom Cochrane – this song construction is simple, but the lyric is touching on big and perhaps, ultimately, unanswerable questions. In a way, this song is coming from the same place Everything Is Gonna Be Alright is: the undying courageous dignity of humanity, triumphing over prevalent despair. It's a miracle, really, that we can find that. But that miracle is commonplace, every day. Take that, darkness.
Part 1 – Complete

Rik is taking a hiatus from touring. Any updates will be posted here as soon as they are available.